Education, Fiscal Awareness, Public Engagement
Public budgets are difficult for the average citizen to navigate. They're also extremely important. Involving citizens in the budgeting process would help build better trust and transparency in an age of open data. Engaged Public made early efforts in 2007 to embrace this challenge through an online simulation tool, but needed to reimagine the tool as a true digital product to help it scale to millions.
Engaged Public partnered with CauseLabs to reimagine their early budget simulation tool as a high-growth, web-based product with vast social impact and business outlook. Our work included a refined and simplified budget interaction experience for citizens, an onboarding process that greatly reduced setup time, and a brand new report builder that shows public leaders the top issues adjusted and an accumulation of citizen input on the budget, in one easy to digest view.
Prior to engaging CauseLabs, the sales effort for Backseat Budgeter was 20-30 hours with on-site training needed. Now, customers can sign up and have their budgets ready within two hours, and the product can accommodate budgets for cities, school districts, counties, and states. It's also localized in Spanish and French and, thanks to the modern framework on which it's built, more to come as adoption and use grows. As a B Corp, CauseLabs has used the tool internally to give our team members input on our company's spending.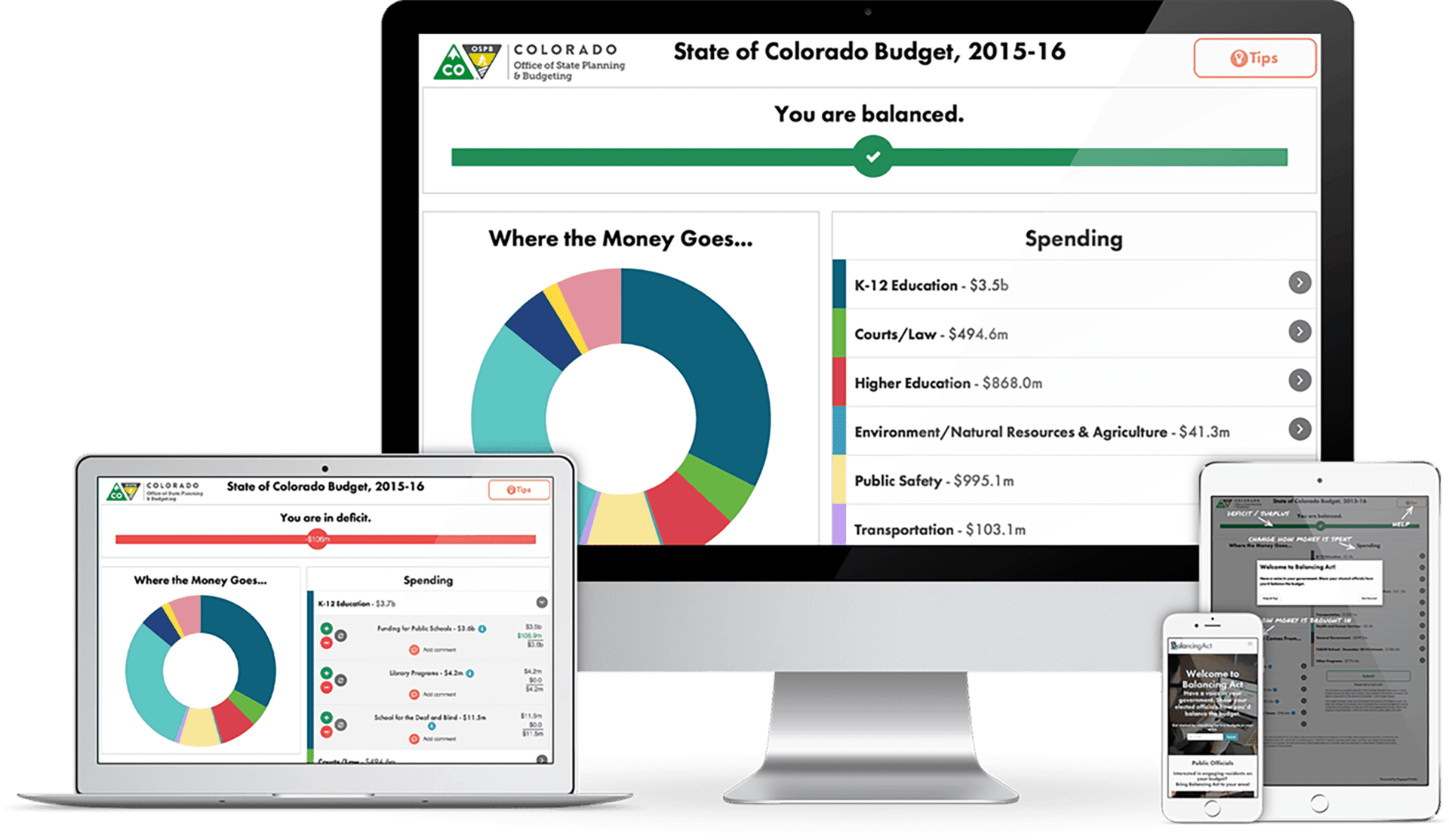 What Public Leaders and Citizens wanted.
Finally, as we learned more about the needs of public leaders and citizens alike, we knew the brand needed to reflect the engaging and inquisitive, yet meaningful tone the product was now communicating.
We spent time creating a new identity working hand-in-hand with Engaged Public's marketing team. The result is a brand that is ready to communicate a positive image around public budgets for years to come.
With the brand guide in place, the team moved through our process to bring the product to life. The team worked to humanize budget categories and make life easy for public budgeting officials, while incorporating rigorous user feedback from citizens to build what is now one of the most compelling budget simulation experiences online.
We didn't stop there, though. We made sure to design a product that would not only educate citizens on the budget process in their communities and gather public opinion, but present the citizen voice in an actionable, digestible format so leaders could actually use it to inform decision-making.
We also spent time with a number of citizens in Denver, CO, to understand how they currently interacted with their public officials and what, if any, interest they had in having a real say in the budgeting process. As they play-tested our early prototypes, we confirmed that citizens do want to have a say and are interested. The problem was in creating an understandable and meaningful user experience that citizens felt made a real difference, and our early prototypes struck the right chord.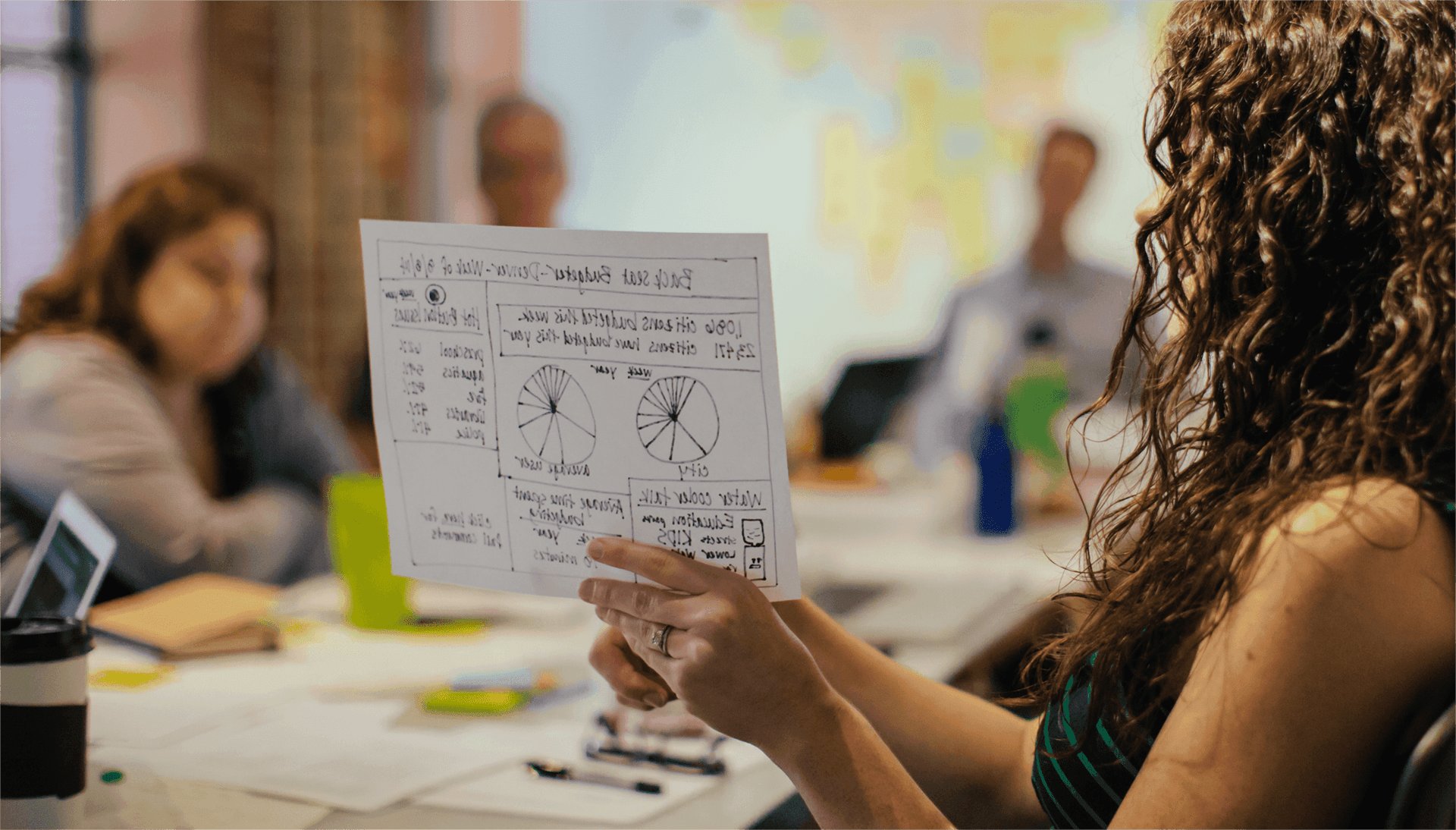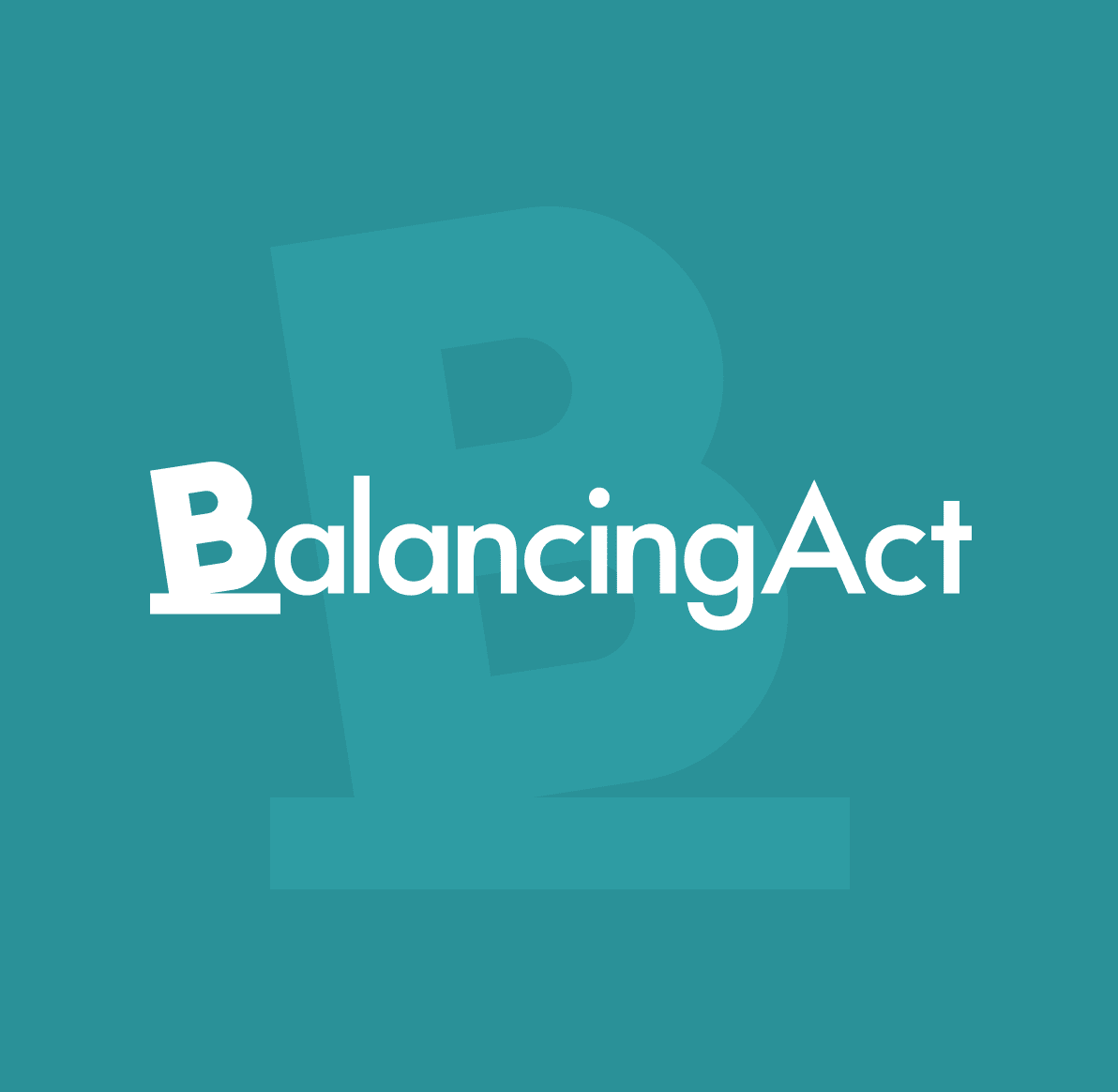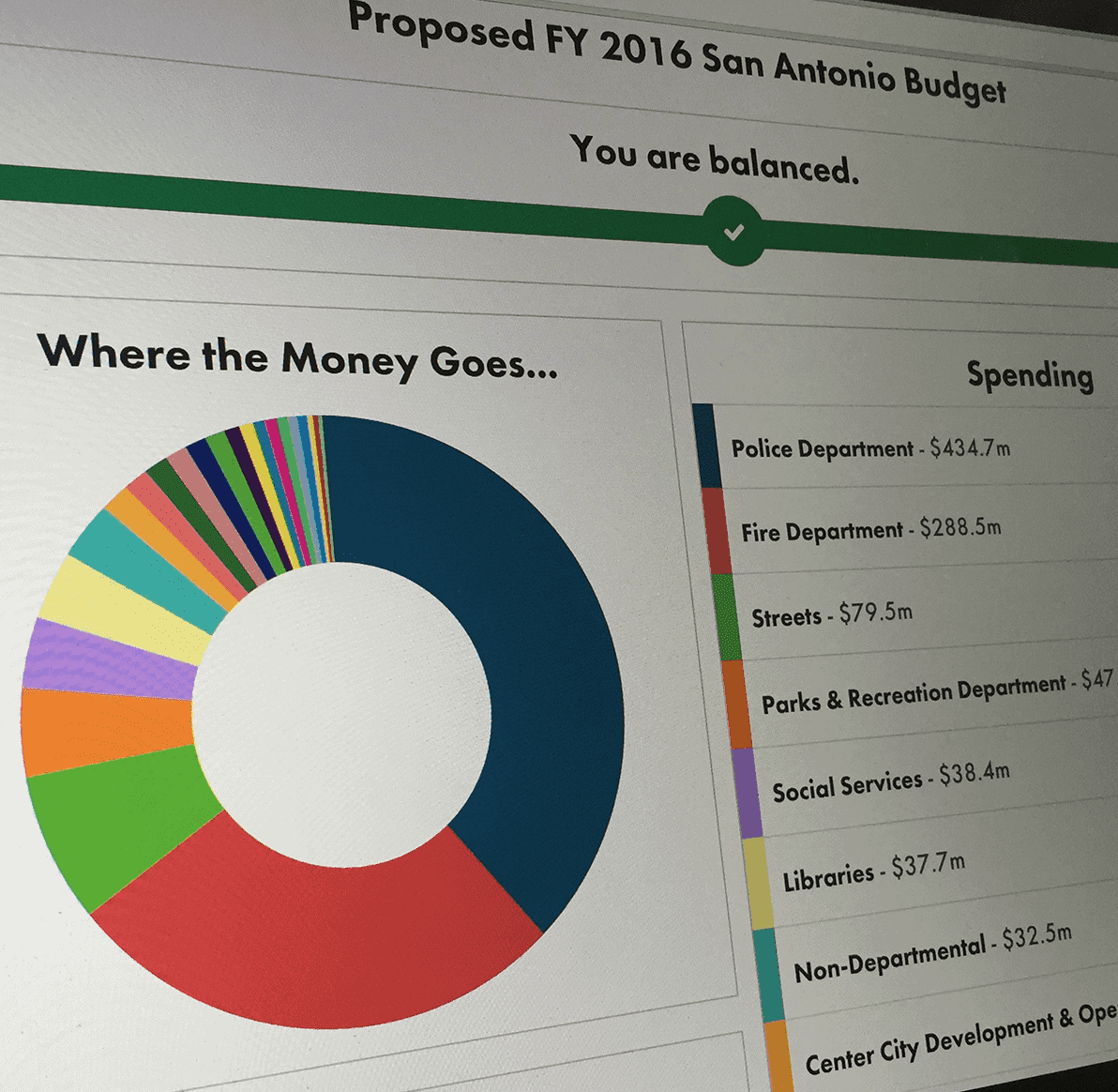 From Backseat Budgeter to Balancing Act
In just a few months, the new platform launched with several early adopters, including the 7th largest city in the U.S., and saw a dramatic spike in engagement. CauseLabs also built a companion tool, Taxpayer Receipt, which gives citizens an individualized breakdown of how their tax dollars are being spent.
The tool has been featured in national publications such as The Huffington Post, Fast Company, and GovTech. Now Balancing Act is helping bring the federal budget into the hands of all Americans thanks to a partnership with the Bipartisan Policy Center.
From Balancing Act 1.0 to a 2.0 Ecosystem
After several years of adding customizations when clients requested them, we had gathered enough common features to consider what a Balancing Act 2.0 might include. It became clear that in order for the product to mature, we needed to build an easy-to-use management console that would allow clients to create and customize not only their budgets and meetings but now also their own taxpayer receipts, which until this time had been completely custom development.
Another area that became a major highlight of the update was the custom reporting available in the management dashboard. We attempted to answer the question, "How might we offer up the most meaningful data insights to clients in a way that is easily understood so that they can respond to citizen feedback accordingly?"
After digging into the data and receiving insights from current users, we pulled out the most relevant parts that the system was already capturing and determined a feasible way of visualizing this data. We also sought feedback concerning what information was missing and started capturing and incorporating that data as well. Choosing a flexible data visualization library meant that we were able to quickly spin up new custom reports on the management dashboard as they were needed.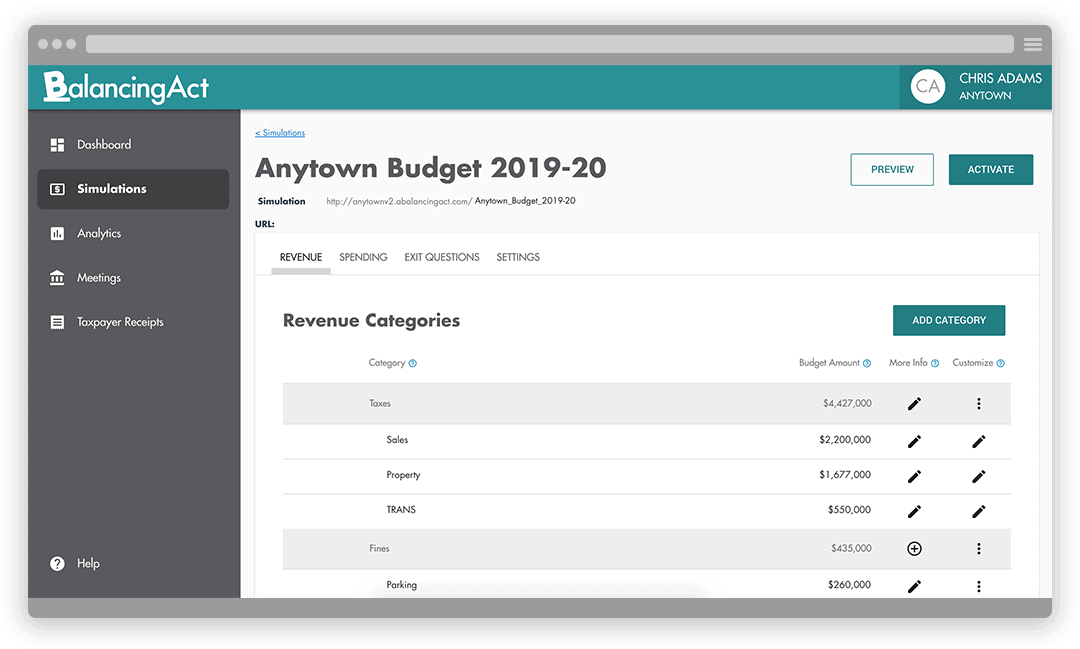 We worked alongside Engaged Public on the look, feel and functionality of the inclusive management console in order to make it a useful and streamlined tool for administrators to easily manage all their Balancing Act simulations and experiences.
The new console also provided new analytics and data visualization features, which offer Engaged Public's clients a deeper understanding of who their users are, and what issues they are most concerned about.
Start-to-finish, we designed, developed, and launched the new management console over the course of nine months, including a sophisticated data migration plan from the old system to the new system—with zero data loss and little downtime.