CAVU & the Climate Innovation Challenge Website Redesign
As an organization evolving to focus on their Climate Innovation Challenge and youth education programs, CAVU needed a website redesign that honored their past, but reflected their future.
While CAVU came to us for a redesign, this project involved remediation, optimization, brand integration, and new additions to prepare them for future programs and continued success.
CAVU's revamped website now reflects their renewed focus on their CIC program while honoring their storied past. The seamless blend of old and new epitomizes their journey, ready for a future of impactful advocacy. Have a look: CAVU.org

Climate Advocates Voces Unidas (CAVU) approached CauseLabs with a clear vision: to pivot their focus towards their CIC program without losing their rich history and past experience. The challenge was to seamlessly integrate their new direction with their established brand.
As part of our process, we kicked off the project with a website audit. Upon our initial review, we uncovered two significant issues that we needed to resolve before we could engage in a redesign.
Security Breach: Unbeknownst to CAVU, their server had been compromised. While no data was removed from the site and they did not store any PII, their server showed signs of access and malicious files with unknown intent were being hosted on their server - even though they could not be seen from their WordPress administration dashboard. Immediate action was taken to ensure the site's continued security.
Performance Lag: Years of evolution had left CAVU's site cluttered with old, redundant data, leading to slow response times, affecting both SEO and user experience.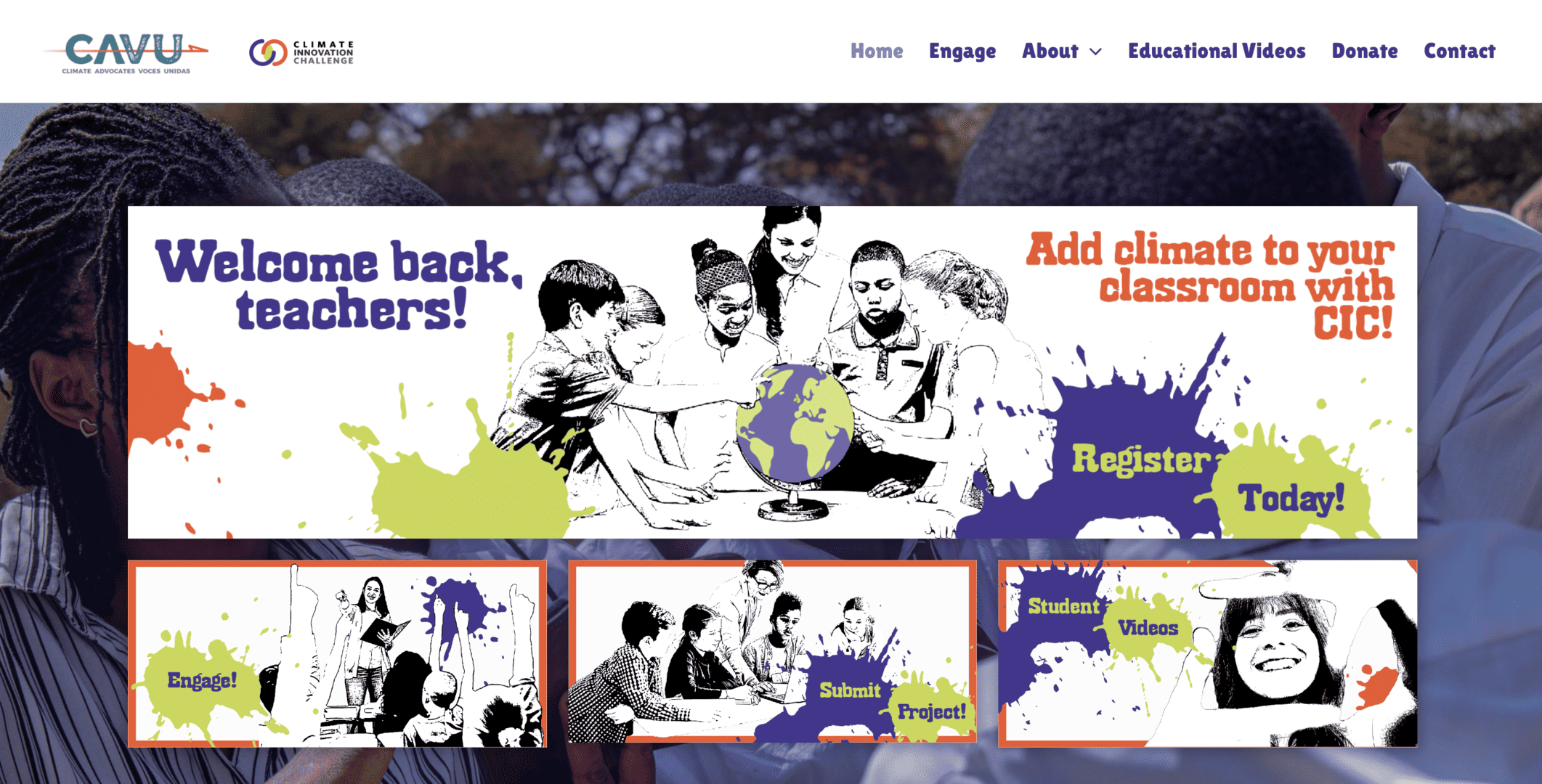 Taking Action on the Website Redesign
This project involved several different layers including the steps necessary to address the immediate issues found in the website audit. Here are the actions we took to deliver a new and improved website.
Immediate Remediation:
CauseLabs swiftly secured their website, closing all vulnerabilities to ensure a robust digital presence.
Data Optimization:
We streamlined the website by removing some of the unnecessary data, enhancing site performance and user experience. There is additional data that can be removed, however, CAVU's website managers are better equipped to identify what is necessary and what is old, outdated content.
Brand Integration:
With CAVU's shift to spotlight their CIC program, it was essential to merge the new brand assets with the original. We introduced a youthful design with colorful paint splatters that were reflected in the new CIC assets that CAVU provided to CauseLabs, and consistently applied these across the site. We also added a new top bar featuring CAVU's colors to help bridge the two brands, with both logos prominently displayed in the header.
New Additions:
To align with their renewed focus, we added a youth advisory board page, prepped and primed for their upcoming program.
Seamless Integration:
The real challenge lay in harmonizing the old pages, each with its unique style, into the new design. With no prior style guide, an array of various fonts and colors, and hundreds of pages, it was tricky to bring cohesion to the site since these pages would still be active and available. Would it have been easier to disable the old pages? Not in this case, where much of their history, their SEO, their credibility comes from the old content. In this case, we leveraged the top bar and a redesigned footer, both infused with CAVU's brand colors, to ensure these pages felt integrated and cohesive within the new site.
"Thank you so much. Our website works great, and it actually loads significantly faster."
Kurt Gutjahr
Executive Director