Facilitating job readiness to reduce re-incarceration while building a stable foundation.
For Center for Employment Opportunities
How might technology help improve feedback loops and reinforce behavioral goals for formerly incarcerated individuals in the CEO program?
We built an Android app and technology platform that both supervisors and participants of the CEO program can use to manage daily check-ins, reviews and work site assignments in a way that creates efficiencies over the existing paper process and also adds value through rich feedback mechanisms, goal setting and motivational content.
During the early stages of discovery, we provided advice on strategies for automating and optimizing processes and tying in with existing tools such as Salesforce.
CEO Works, the Digital Passport To Success (PTS), was piloted in two cities in California in 2015. By June 2018, it will have been rolled out to all 19 CEO offices nationwide. Since initial launch the application has also expanded to give supervisors the ability to add and transfer participants between worksites and for participants to provide feedback to CEO on their experiences. It has gleaned positive feedback from both the supervisors and the participants as well as streamlined and improved the check-in and daily feedback processes.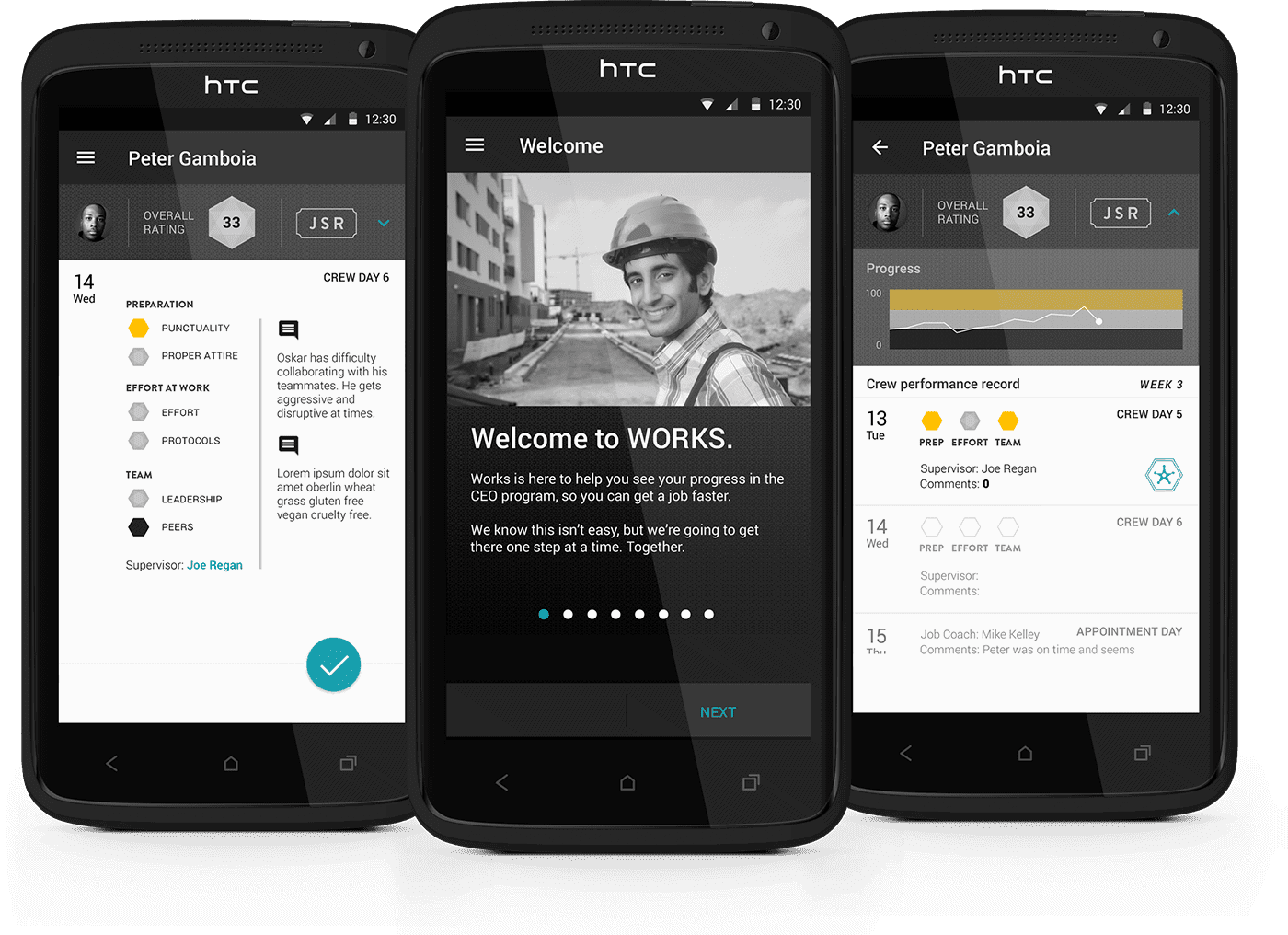 The CEO Works app is used for a transitional work program for the Center for Employment Opportunities, in which crew supervisors are able to provide daily feedback to each worker on five behaviors which entry level employees must master to be successful on the job.
The behaviors include
Cooperation with Supervisors
‍Cooperation with Co-Workers
Effort at Work
On Time
Personal Presentation
At the end of each day, using the app, crew supervisors rate each worker on a three point scale. This information will then be provided to each worker who can track their own progress towards mastering these behaviors. Integrated with a program database, this data can be tracked by program staff. Staff use this information to assist each worker with improvements in these behaviors. As behavioral improvements are made, staff can then use this data to help match workers to private sector employers for full time, unsubsidized jobs.
The app also allows participants to earn badges for mastery of the behaviors. Operational efficiencies are found by allowing the crew supervisor to check each worker in at the start of the shift. Integrated with the program database, workers' attendance and hours populates payroll records which is used to produce a daily paycheck. Because this transitional work program runs a daily payroll for more than 300 workers in 10 cities across the country, with significant expansion planned, this operational efficiency adds the ability to provide more accuracy, and significantly more capacity to grow with a very limited increase in expenses.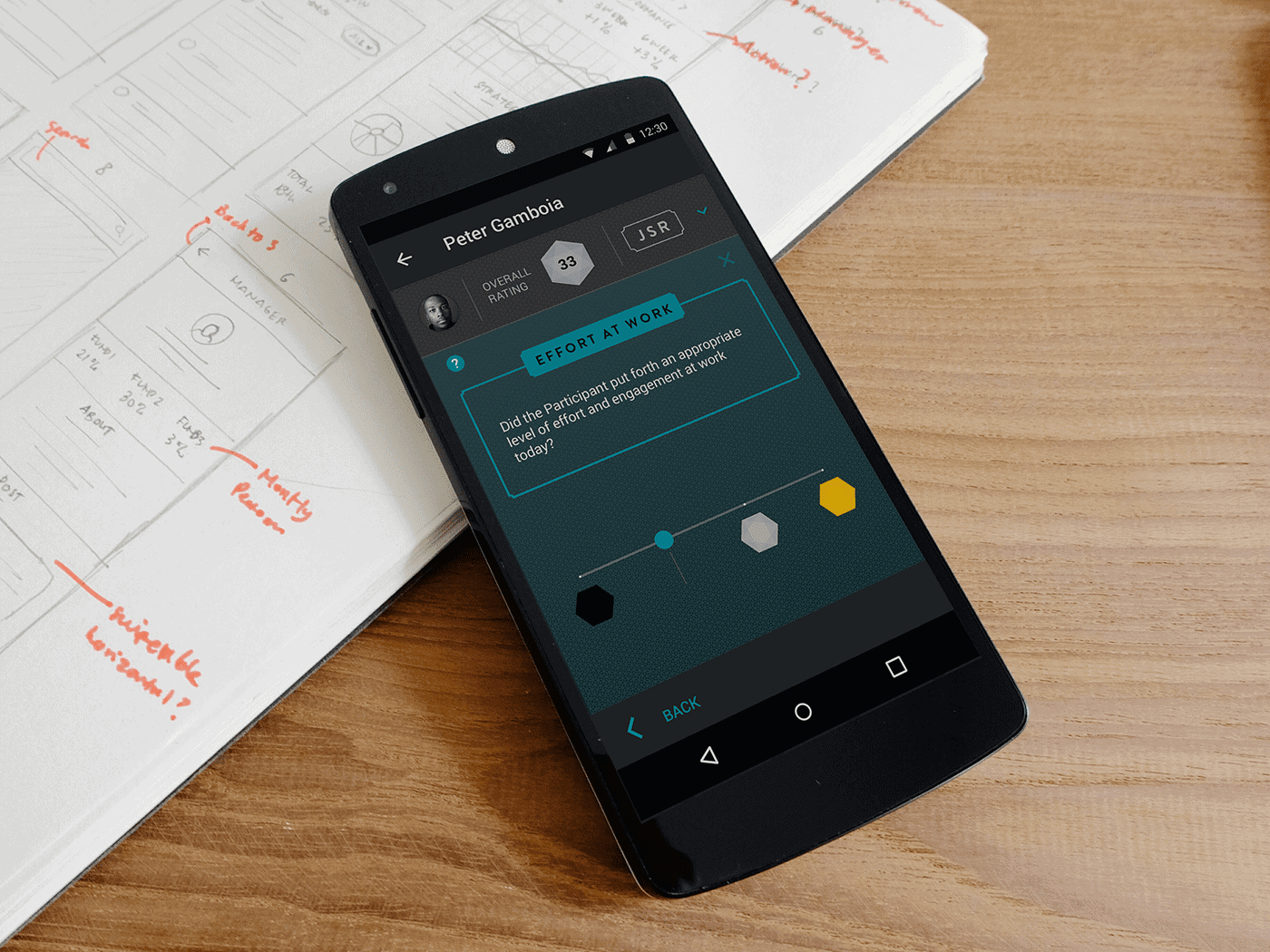 Recognizing the internal impact and process optimizations.
CEO's participants in the pilot program preferred the new app to paper packets and loaded the app on their personal devices instead of opting for a CEO-provided Android device. There were a few reasons the app appealed to them more than the paper packets previously used to score their training progress.
First, they always had their phones. This reduced the worry around forgetting to bring their paper packets to work. Second, they could see their groups and supervisors via the app and get notifications of changes. Much of this still has to happen in person, but it can update more dynamically and provide that information to the participants in real-time after they checked-in. Additionally, the rating system was revised to take into account how participants perceive their feedback. The WORKS app employs a motivational badge system even when providing constructive feedback.
The new optimizations afforded to CEO's processes for daily check-ins and checkouts saved both parties time and led to increased positive experiences.
The process of building an app to compliment their workflow led to an evaluation of their entire program and how it could best serve the participants through the app. We explored three concepts in collaboration with CEO and IDEO.org and advocated for the WORKS platform as the largest differentiator and tool that might bring about behavioral change and greater impact. Since it's initial release in 2015, the platform has been implemented in CEO's offices nationwide.