Children, Creative Play, Educational Gaming
LEGO had just launched a brand for girls that was showing early signs of breakout success. But with initial digital efforts falling short, the franchise needed a big win. LEGO needed a partner with proven experience building hands-on, minds-on creative experiences for kids to refine and execute their vision.
During multiple workshops in Billund, Denmark, CauseLabs not only helped LEGO get the big win they needed but helped their team refine their  vision for creative expression into a multi-app platform that went beyond anything tried before. The LEGO Friends Maker Suite was born, and over the next three years, three breakout apps for iOS, Android, and web set a new precedent for digital strategy within LEGO.
The LEGO Friends Maker Suite strategy saw the launch of three new apps: Story Maker, Art Maker, and Music Maker across mobile and web platforms. Most importantly, the Maker Suite set off a paradigm shift away from one-release games toward creative tools to be updated and improved over time, helping shift perception of digital as much more than a marketing channel to a true brand engagement opportunity that reinforces and supplements the physical play experience that adults and children around the world cherish about LEGO.
In 2016-2017 we released the first iteration of some of the games you can still find on the LEGO Friends game website.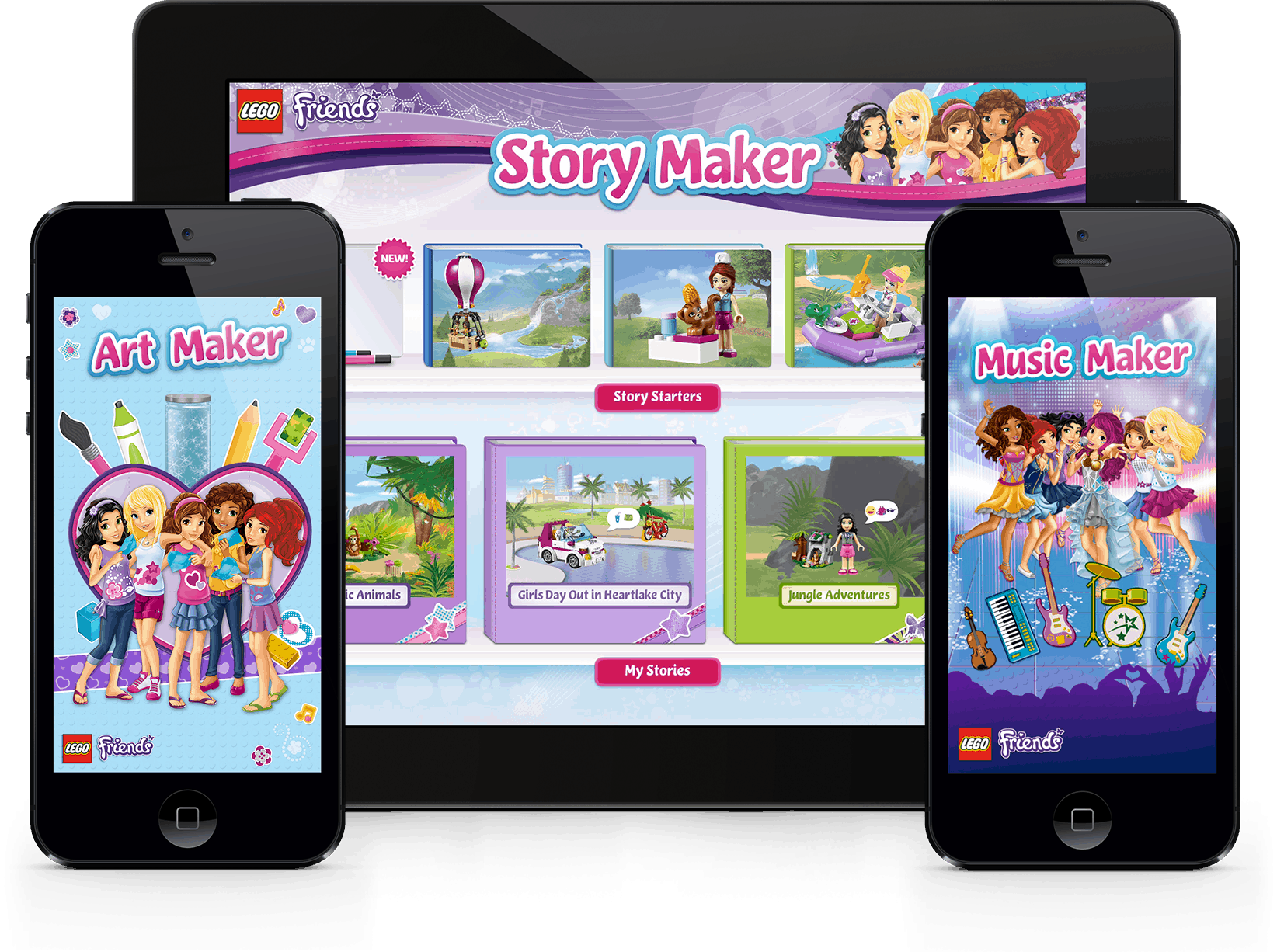 Can Hands-on, Minds-on Play Go Digital?
Having seen our Parent's Choice Award winning app, My Story, LEGO wanted to know if we could create a similar book making app. As fans of LEGO, its core values, and their vision for LEGO Friends to empower a generation of girls, we saw a great partnership opportunity.
One workshop in Billund, Denmark, and six short months later, LEGO Friends Story Maker debuted in the App Store to critical acclaim. After that first release, we conducted four additional workshops with the LEGO Friends team, each leveraging rapid prototyping and intense collaboration to kickstart best-in-class digital experiences.
The result of our three year partnership is a hands-on, minds-on creative suite of digital tools built with the same philosophy of creative empowerment that makes LEGO such a force for good in children's lives.
Here's what people are saying:
"My five year old grandaughters love this app...shoot, I do too!"
"The potential for creativity is endless."
"This game makes me feel like a rockstar."
The LEGO Friends Maker Suite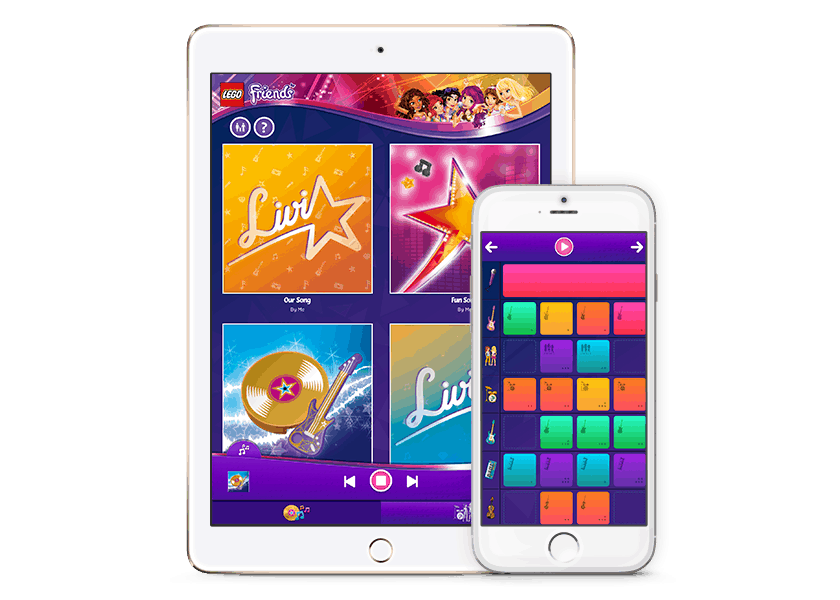 With LEGO® Friends Music Maker, creative pop stars and singer/songwriters in training (kids ages 6+) can make their own hit songs. Choose from pre-recorded LEGO Friends sound bites, and mix, sing, edit, record and play your way to lots of fun star moments with pop sensation Livi, her Heartlake City Friends and your own friends.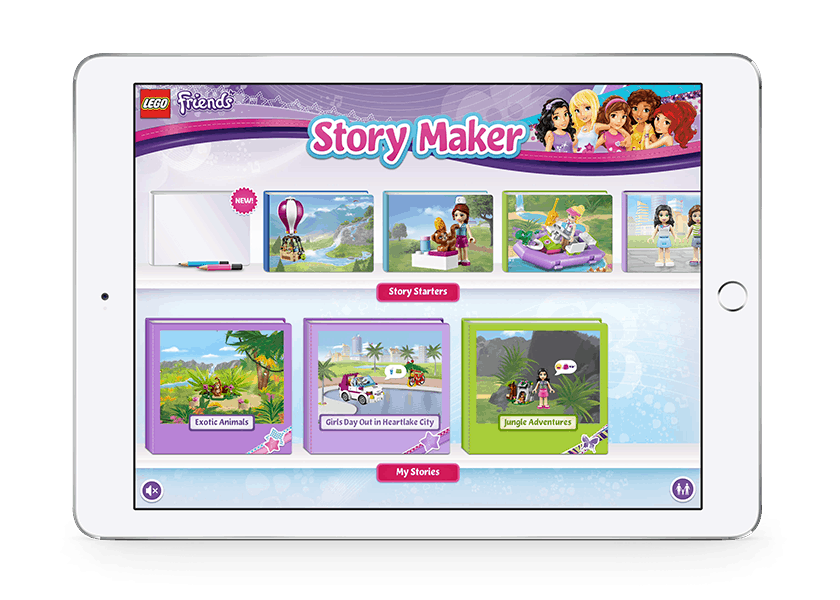 With LEGO® Friends Story Maker, creative storytellers (kids ages 6+) can write, create, publish and share their own beautiful multimedia stories. Easy tools like drag & drop, stickers, voice recording, text, emoticons, and backgrounds make every story come alive!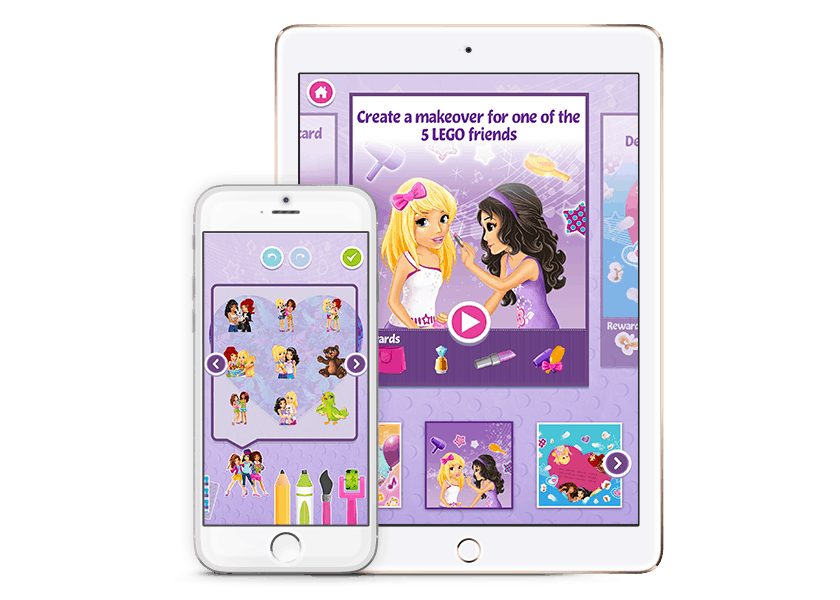 LEGO® Friends Art Maker is a fun and colorful art and creativity app for kids ages 5+. Create, paint, decorate and save your own Heart Cards and artwork with lots of details, colors, sparkles, stickers and bling!
"CauseLabs has the same commitment to quality as LEGO does. They put the consumer experience first, and delivered an excellent product that gives children a wonderfully creative experience. Working with them was a pleasure; they understood the goal and always had creative and collaborative solutions during production, all the while delivering on time and on budget."
Senior Strategic Planner
LEGO