A platform for parents to connect with trusted childcare providers.
For California Child Care Resource and Referral Network
My Child Care Plan Website Portal
Children, Families, Nonprofit
The California Child Care Resource & Referral Network (The Network) is a dedicated non-profit organization. Their mission is to create robust connections between parents and trusted childcare providers, while also equipping them with vital resources. Through their endeavors, they aim to inspire, inform, and advocate for a childcare system that addresses the needs of all families in California. Their work is instrumental in shaping a supportive and inclusive childcare landscape across the state.
In California, there isn't a centralized hub where parents can find reliable childcare services. Information and resources about childcare are dispersed across local websites and private platforms like care.com, each featuring its own unique provider criteria and type of available information. However, these details are frequently incomplete, outdated, or simply inaccessible to parents searching for local childcare.
The Network has proactively addressed this issue by compiling a database filled with comprehensive, useful information about childcare providers throughout the state. Armed with this database, they have the potential to create a valuable resource for Californian residents seeking current and relevant childcare information.
The challenge, therefore, lies in developing a uniform, user-friendly experience that enables parents to easily find childcare, while also providing a platform for providers to effectively showcase their services.
The final product, found at mychildcareplan.org, is the result of a collaborative effort between The Network, the California Department of Education, the California Department of Social Services, Resource & Referral offices across the state, a range of child care providers, and input from parents. We have been relentlessly refining the user experience, seeking ways to enhance transparency, and providing ongoing support for scalability. Over a thousand providers have already claimed their profiles, updating their services and availability. Moreover, parents are using the website to research their current providers because it offers licensing and certification information. As a result, we're about to launch a new feature that includes non-referral providers. These providers might not be currently accepting new children but wish to maintain visibility on the My Child Care Plan database.
A project of statewide scale comes with a complex interplay of elements and a wide array of stakeholders. This endeavor adopted a human-centered approach from its inception, dedicating six months to strategy and design to incorporate input from as many involved parties as possible. A well-executed human-centered approach enables the development of products that deeply resonate with the target audience, fueling engagement and fostering growth.
This has certainly been the case with My Child Care Plan. However, it has also prompted questions about data availability and how childcare providers can manage their information visibility, particularly smaller home-based providers. To tackle these challenges, we've implemented strategies used in previous projects, such as visibility options, optional data fields, and location jittering. This allows providers to retain control over their information while ensuring the platform serves its primary purpose effectively.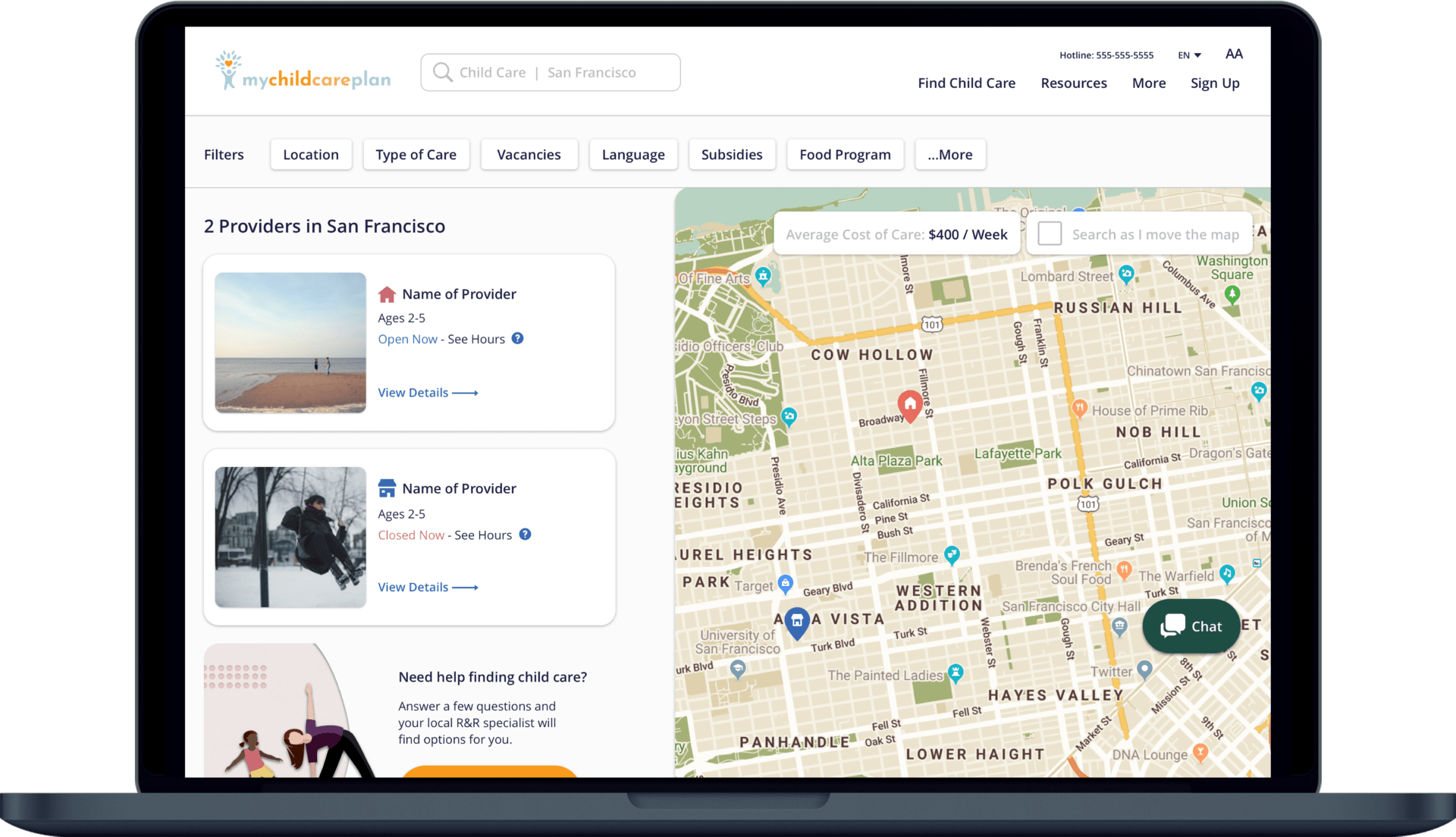 Our design process with The Network began by gaining a comprehensive understanding of our users, their challenges, and the environment where these issues occur. The task of finding reliable childcare is substantial and intricate, involving a myriad of parties including parents, providers, local communities, government bodies, state legislation, licensing authorities, and many more. Recognizing the breadth of this system helped us establish suitable parameters for our forthcoming solutions.
Armed with this knowledge, we focused on the system's users most affected by the task of securing trustworthy child care: parents, providers, and local Resource and Referral agencies (R&Rs). Despite narrowing down our target audience, these three groups had vastly different needs and want within the childcare system. Thus, we explored a broad range of ideas in our initial brainstorming. Leveraging The Network's profound expertise and experience, we created detailed and relevant user personas for parents, providers, and R&Rs. This exercise enabled us to deepen our empathy for our users and to identify different facets of the challenge that we wanted to explore with potential solutions involving real users.
We produced several prototypes based on the needs identified in our persona exercises and began testing these with actual parents, providers, and R&R staff. These preliminary interviews were valuable in validating and refining our initial concepts. We used this feedback to improve our prototypes before delving deeper into user experiences.
Taking our most polished prototypes, we approached parents, providers, and R&Rs across the state, putting our best concepts to the test. Much of our approach was positively received, and the ensuing discussions sparked by the prototypes further enhanced our understanding of our users, including their requirements and expectations from a childcare search and provision tool. Through these diverse conversations with different individuals in varied contexts across the state, we identified common elements. These insights were instrumental in the development of a product more closely aligned with the authentic needs of the users.
Once the design of the user experience and interface of the platform was completed, our development team took over to implement the design.
A notable challenge that emerged during this phase was a shift in data source mid-development. The initial plan was for The Network's site to mirror their data, with bi-directional communication with their database. The project scope was defined with this assumption in mind. However, an increased focus on user privacy necessitated a shift, requiring the data to be hosted exclusively by The Network.
This transition entailed moving from a self-contained website to one heavily reliant on the client's API. Both our development team and The Network's database team had to recalibrate their plans to cater to this significant change.
Such a data shift can typically derail a project, but our collaborative approach with The Network enabled us to redefine the requirements and tools to match the re-scoping. Together, we navigated this data challenge successfully, ensuring neither the project timeline nor the deliverables were adversely affected.
"CauseLabs has been a wonderful thought partner in the design and implementation of our child care consumer education website. Their team is always lovely to work with, our meetings are focused and productive, and the documentation they provide is impressive. Their work helps us shine and communicate our work better to our stakeholders. We couldn't have chosen a better firm to work with on this project!"
Gretchen Howard
Database Manager