Based in Kenya and expanding, the driving force at Toolkit iSkills is to create an opportunity for thousands of youth with a limited formal education, whose potential is not systematically and formally tapped, to bring them prosperity.
Through partnerships with public and private institutions, Toolkit iSkills provides the youth access to a wide range of practical industrial, mechanical, artisanal and extractive industry skills required to service growth in various growing sectors – construction, infrastructure, mining/oil & gas. Learn more: Visit Toolkit iSkills
The five-page brochure site did not highlight Toolkit iSkills vibrant brand and provided outdated content because it was difficult for staff to edit. The website did not serve artisan needs for skills training or opting in for job opportunities. It did not provide space for manufacturers to showcase new products. Nor did it allow homeowners and corporations the ability to request artisans for jobs. Training was done in person and this made it difficult to scale beyond the few locations in Kenya where staff could travel easily. Artisans needed to travel to the few locations when and where the training was offered. The high touch process is still necessary to some degree, but how might we use technology to exponentially scale the impact of the Artisan Deployment Portal for Toolkit iSkills?
We used WordPress, Beaver Builder, Participants Database and LifterLMS to deliver a minimum viable product that elevated their brand and optimized their operations. The new web portal offered a modern mobile-friendly design while also providing Toolkit iSkills staff with drag and drop tools to continue customizing their portal as they received feedback from users (staff, artisans and funders.) LifterLMS offered a scholarship to discount their add ons for custom assessments, certificates, and badges. Best of all, the Participants Database translated a manual data entry process from paper to excel spreadsheets to one of user-generated entries. Saving time and allowing Toolkit iSkills staff to focus on creating courses and engaging with artisans to help grow their skills and fund job opportunities.
Nearly 1000 artisans have signed up for the artisan database since the launch of Toolkit iSkills in the summer of 2019. Artisans are signing up for courses and Toolkit iSkills is exploring more advanced paid certifications to create a sustainable social enterprise.
Additionally, the website is easy for Toolkit iSkills staff to manage. They've updated content, added photo galleries and new videos highlighting their artisans, and published over 40 posts to share their program activities and successes.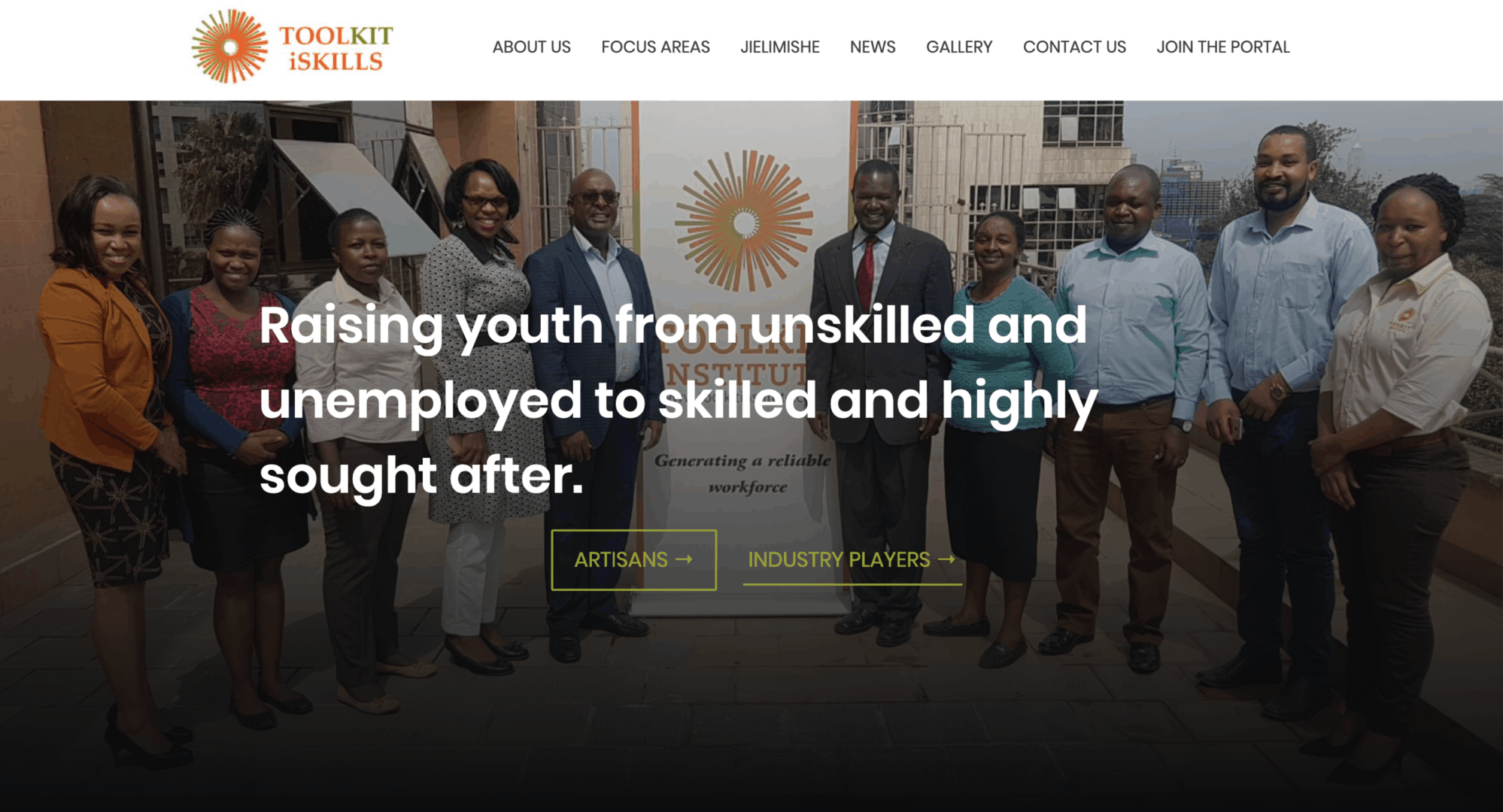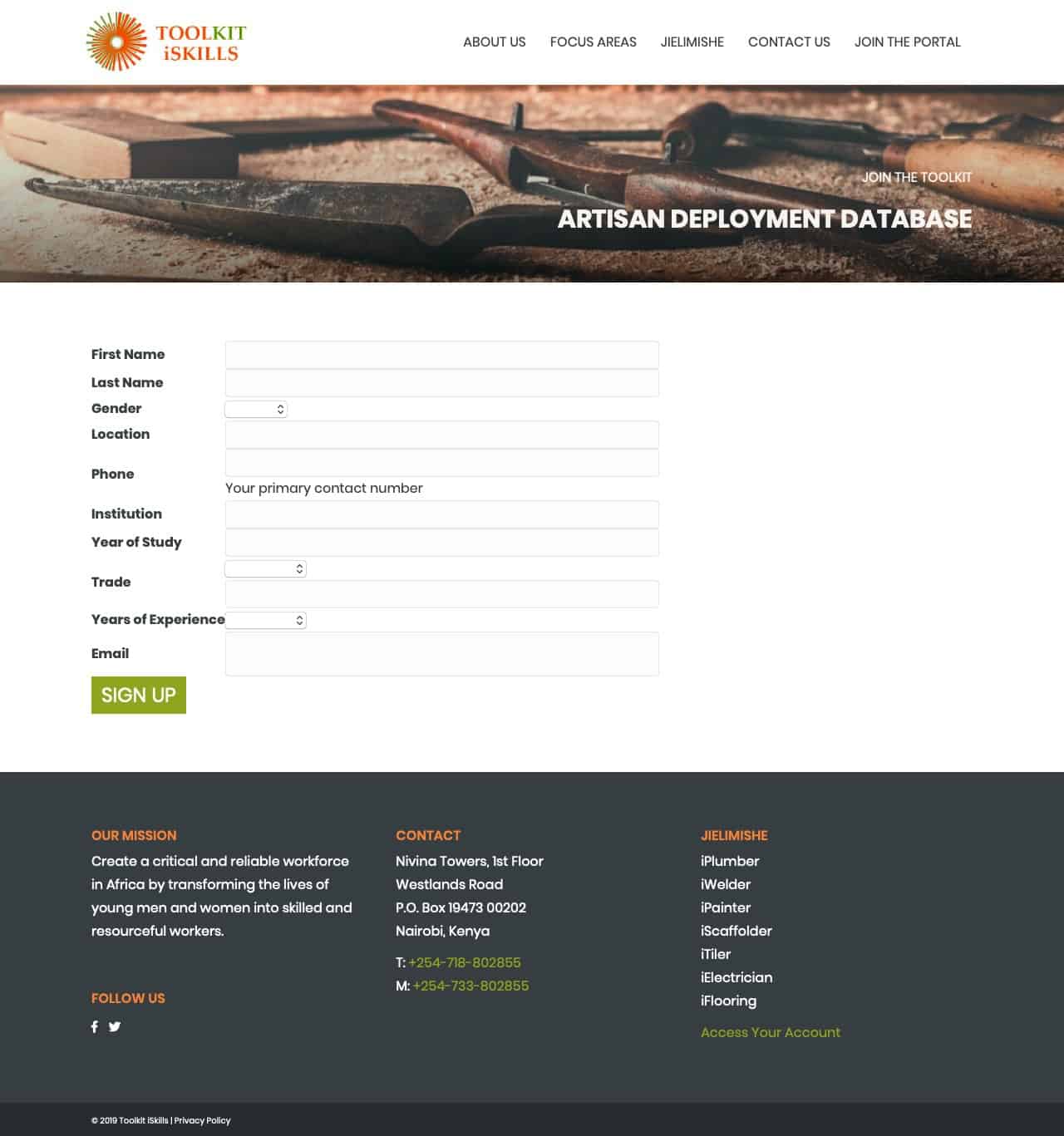 "CauseLabs creatively engaged their networks to lower-costs and took less than eight weeks to develop the OTAD portal. Not only was it per our requirements, but we were also involved in every step of the process. Our biggest concern was the turn around time of updating content, but CauseLabs creatively engaged us in the visual coding, which made the update and content development processes not only exciting but also fulfilling for us at Toolkit iSkills. We highly recommend CauseLabs for their amazing customer-response services."
Anne Waweru
Toolkit iSkills, Digital Skills Consultant