As Giving Tuesday nears, nonprofits globally are preparing for one of the year's most significant fundraising events. In today's digital landscape, your website is the core of your organization online, blending storytelling, engagement, and donations. This guide is designed to ensure your nonprofit's website is not just operational, but genuinely compelling and ready to spark generosity.
Understanding Your Audience for Nonprofit Website Success
Before embarking on design and content creation, it's crucial to identify who your website is targeting. Conduct thorough audience research to grasp their preferences, needs, and online habits. Design and tailor your website's content to resonate with this audience, ensuring it aligns with their values and interests.
Narrative Power: Telling Your Nonprofit's Story
Your website should vividly convey your nonprofit's mission, vision, and impact. Employ compelling storytelling to forge an emotional connection with visitors. Highlight success stories, testimonials, and case studies that showcase the tangible impact of your efforts. Learn more about effective nonprofit storytelling.
Designing a User-Friendly Nonprofit Website
A well-crafted website is intuitive, accessible, and straightforward to navigate. Ensure your site is mobile-responsive, catering to the substantial portion of users on mobile devices. Implement clear call-to-action (CTA) buttons, particularly for donation prompts, and make sure your contact information is readily accessible.
Optimizing Your Nonprofit Website for Donations
With Giving Tuesday centered around donations, streamline the donation process. Feature a distinct, prominent 'Donate' button on every page. Opt for a simplified donation form with minimal steps and provide various payment options to accommodate different user preferences.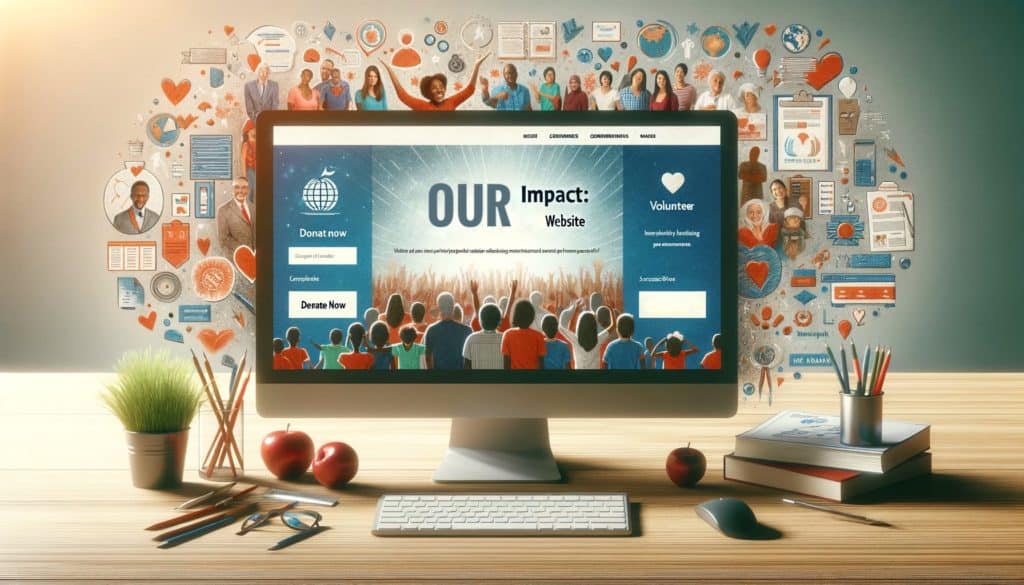 Multimedia Engagement on Your Nonprofit Website
Enhance your website with videos, images, and infographics. Multimedia content is a potent tool for conveying the urgency of your cause and the impact of donations more effectively than text alone.
Improving Load Time and SEO for Nonprofit Websites
A fast-loading website is crucial to keep bounce rates low. Additionally, optimize your website for search engines (SEO) to boost visibility. Utilize relevant keywords, meta descriptions, and alt text for images to enhance your site's search engine ranking.
Keeping Your Nonprofit Website Fresh with Regular Updates
Maintain a dynamic and current website with frequent updates. A blog is an excellent medium for sharing news, stories, and insights, keeping your audience engaged and well-informed.
Ensuring Security and Privacy on Your Nonprofit Website
Prioritize the security of your website, especially concerning donation transactions. Implement SSL certificates to safeguard user data and foster trust among your visitors.
Conclusion
A compelling nonprofit website transcends being a mere online brochure; it's an active platform that narrates your story, engages your audience, and facilitates donations. As Giving Tuesday approaches, seize this chance to refine your website. A robust website continues to support your mission well beyond Giving Tuesday, enabling you to connect with supporters and drive change throughout the year.
Ready to elevate your nonprofit's online presence? Get in touch with CauseLabs today for expert assistance in transforming your website into a formidable tool for social impact.