The team at Voyage Dallas recently interviewed our CEO. We've pulled some excerpts from this interview. Read the full article here: http://voyagedallas.com/interview/meet-sheryle-gillihan-causelabs-ceo/ Estimated Reading Time: 9 minutes.
Hi Sheryle, thank you so much for sitting down with us again. For folks who might have missed our initial interview, can you start by briefly introducing yourself?
In 2013, I was given the title of Purpose Ambassador and I latched onto it. Since then, I've become a CEO, a small business owner, a social entrepreneur and most recently, a founder all within the same company. I am the CEO, co-owner and founder of what CauseLabs has become. I am driven by our company purpose to grow positive impact. While I run a web agency, my purpose and our collective purpose, is greater than that. As business owners, as creators, as a service company serving client needs, we have a responsibility to care for our stakeholders. While profit is the language of business and economic growth, I believe that profits can be used to create a sustainable business that also serves our people and our planet. I believe that our decisions matter both big and small and so I love talking about our project work, the websites and web apps that create impact, but I also love sharing what I've learned on my entrepreneurial journey and the little steps taken towards a more sustainable business model that has made CauseLabs a globally recognized, award-winning social impact business.
The Birth of Impact Technology
You've been in the web industry for over 10 years, what has evolved in the way you deliver your services?
In 2010, I joined CauseLabs in the midst of the trendy statement "there's an app for that." Regardless of cost or long term maintainability everyone wanted an app. Since then, web technologies have advanced and in many cases there's no need for a native app when you can build a web app that meets business needs.
Also because of this shift, many websites are web apps. Most websites are more than a brochure site with static content. Many have a content management system (CMS), they have interactive features, dynamic content based on user actions or filters, they offer memberships, community, videos, learning management, events, financial transactions, databases, data visualization, language translation and so much more. Many give us the information we're searching for and the tools we need to perform day to day tasks at our fingertips whether that's on a phone or a laptop or desktop.
10 years ago, we probably anticipated the growth of many technologies: e-commerce, AI, machine learning, faster data processing, and even the advancement of web capabilities. We have evolved our web design and development processes, our chosen frameworks, our compliance with accessibility needs, and our overall mindset.
What may not have been as mainstream, but had a growing group of leaders was the use of technology as a force for good. There were a handful of web agencies that worked specifically in the social, environmental sectors. Today, there are a growing number of social impact web agencies. This is tremendous progress because technology is changing the world whether we like it or not. It can either be used to do great harm or to create a positive life-changing impact.
This is what CauseLabs has termed as Impact Technology.
Why is it important for organizations to evolve with technology?
As many saw in 2020, if you were not already digital it was costly to covert when time and global necessity required it. Many of our clients shared their relief at being able to continue their online programs despite the lockdowns and closures from the pandemic. It allowed them to serve their clients and beneficiaries during a time of crisis and growing anxiety. The benefits of evolving with technology comes from evolving your mindset and your business model around supporting digital goals and strategies not from the tool, framework or functionality you choose to build. This will allow you to iterate and build without getting stuck 10 years in the past.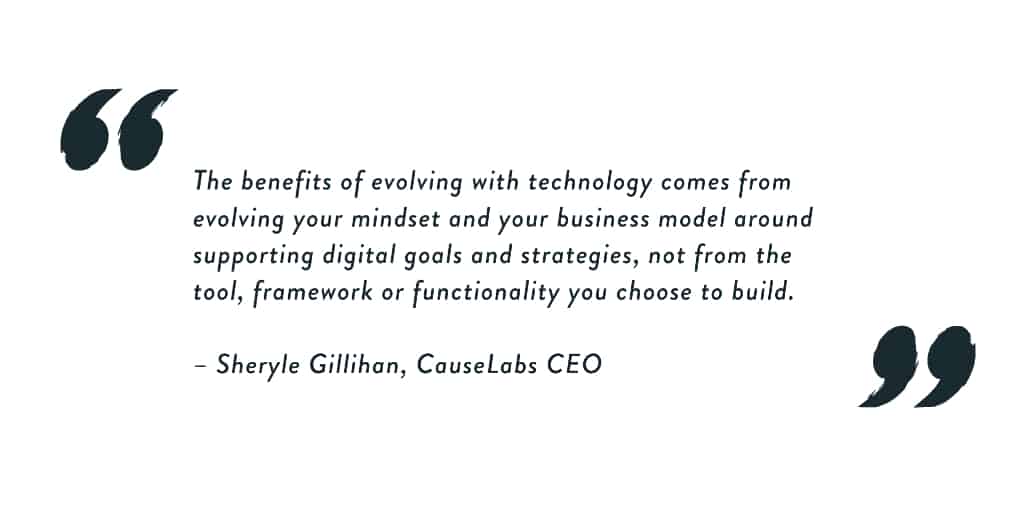 Anything more to add on how to start this evolution?
For those who are already digital, it's a matter of evaluating the stage of your progress. Is the user experience working for your audience? Has your audience evolved? For example, we have one partner who's primary audience was donors until the last year. Now they've also started to serve other practitioners, sharing their knowledge to grow their impact in new ways. An evolution in your business usually requires an evolution in your digital footprint, whether that's a website, web app, mobile app, digital curriculum, audio, video, etc.
For those who aren't yet digital, there are a couple approaches. For many, there is a huge learning curve, but a sense of urgency. This leads to using off the shelf tools. It's a faster, more cost effective way to get started. However, over time, they may find that the tool they selected has limitations, it's harder to maintain, it doesn't quite match their program model, it doesn't allow for the most optimal experience for their audience, it is costly over the long term to pay monthly or yearly indefinitely, it is costly to make any changes to the system, and the list could go on and on. This is when nonprofits consider building their own solution. It is a process and it does have a heftier price tag up front so it's not an approach that should be taken without a strategy. At CauseLabs, we start with this planning because we want to be good stewards of the dollars invested. We want to help find solutions that are right sized for the organization and easy to use for the beneficiaries.
The Potential of Collective Impact Alliances
With a mission to grow positive impact, what would help your web agency do more good?
Lately, we've been working with more and more alliances. While helping one organization is important, the scale of what we're able to do with a collective impact alliance is exponentially larger. Whether it's an alliance of nonprofits, an association of community members or a partnership between NGOs and state agencies, we are experienced in the challenges that come with alliances and delivering websites and web apps that have tremendous reach. This approach takes an abundance mindset and shared goals. This approach helps us all do more good.
Watch our video with Mission Mutual talking more about collective impact alliances: https://youtu.be/kHuv-br7xmE