Your nonprofit's mission is critical, and meeting or exceeding your annual fundraising goals means making a difference in more lives. At the end of the year, you may feel overwhelmed by the generosity of your donors. But it's not too soon to start thinking about nonprofit fundraising ideas for the new year.
Nonprofit Fundraising Ideas for the New Year
Nonprofit fundraising is more of an art than a science. Some of the following nonprofit fundraising ideas may be new to you. Others may be tactics you already use regularly. Whatever the case, consider taking some time to audit your existing fundraising ideas. Incorporating the ideas we share in this list into your practices might help you make a difference in 2022.
1. Donation Pages
Don't underestimate the importance of having a secure, up-to-date donation page for your nonprofit's website. Donation pages have become a staple for those in the fundraising space. They provide a convenient way for supporters to contribute, not requiring travel, envelopes, or stamps to give. This ease of use means that anyone with a computer, smartphone, or internet access can give from wherever it's convenient for them.
If you don't already have a donation page, consider one. On the contrary, if you already utilize your donation page in regular campaigns, consider auditing it. How does it look and feel on a mobile device? Is it accessible to those with disabilities?
Your donation page should be easy to find and integrated with your active fundraising campaigns. Because this page is accessible to anyone, be sure to give a range of choices for donation amounts.
Consider including options for:
Small one-time donations
Recurring monthly donations that fit into the average person's budget
Donations for specific programs
2. Crowdfunding
A crowdfunding campaign is when a group of people, most often online, fund a project or a program. Each person contributes an amount of their choosing toward an overall goal. The average nonprofit crowdfunding campaign raises more than $9,200.
To launch a campaign, choose a donation platform and set up an appealing fundraising page. Be sure to outline the "why" of your campaign. Include a compelling narrative, photos, and a video, if possible. It's easier for people to get on board if they understand and feel connected to your mission.
It also helps to share a visual for social proof. Odds are, a store cashier has asked you if you would like to donate to a nonprofit like Children's Miracle Network. You may see slips of paper indicating previous donation amounts from other supporters plastered on a nearby wall. The store may also prominently showcase a fundraising thermometer to track progress. Some crowdsourcing platforms include these visuals on their pages, and for good reason. Including a thermometer on your crowdsourcing page can help boost your fundraising total by 35%.
Once people choose to support your campaign, encourage them to share it with their social media networks. Consider providing updates about your project to supporters to help maintain interest. Many fundraising platforms allow you to email supporters about progress automatically.
3. Auction Off Supporters' Services
When supporters step outside of the box to raise money for your cause, they take a sense of ownership. One simple way to involve those who already support you is to have them pledge their services to donors.
You can host an in-person fundraiser where you reward the highest-bidding donors with services. A more pandemic-friendly option is to initiate a rolling auction campaign on your website or social media platforms to engage with potential donors.
Auctioning off supporters' services is a low-cost way to reward donors for their support. Consider keeping track of your supporters' unique talents and professional services by asking them what they might be willing to contribute. Just be sure to tell them why you need the information.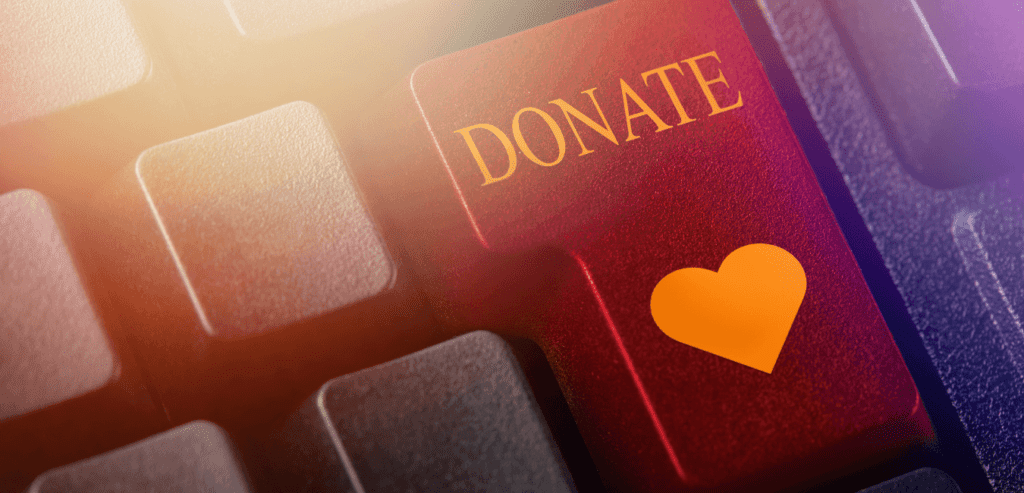 4. Email Donations
Your organization probably uses email regularly to garner donations. But do the emails you send look and feel like marketing?
People want to feel like they are personally engaged in emails. They want to feel like you're writing directly to them. It's not just a conversational tone that matters, either. Consider stripping away your traditional email marketing template to make it seem like you sat down to write a donor appeal personally.
Likewise, consider segmenting your emails into different groups to speak to specific interests and goals. For example, you might segment by age, donor status, or interest.
It can take a bit of work, but it's worth it. When marketers used segmented email lists, 39% experienced higher open rates, and 24% saw greater revenue.
5. Promote Matching Gifts
Do you have a particularly generous corporate or individual donor? Capitalize on it! People who support your nonprofit may be more likely to give if they know that their donation is going to make more of an impact.
A United Way chapter in Michigan has great success with its annual Matching Money Monday campaign. Many generous corporate and individual donors match donations. They're highlighted on its campaign website. You can work with the donor to cap the money matching at a certain amount, but often this strategy brings in even more than the original offered gift.
6. Text Your Supporters
You've probably seen text-to-give campaign messages during emergency relief efforts after natural disasters, like recent California wildfires. These campaigns allow donors to contribute to your cause by simply sending a text message with their cell phones.
Given that 90% of text message reminders are read in three minutes, text-to-give campaigns can be a highly effective way to get donors' attention and support.
You can either set the campaign up to add the charge to the donor's cell phone bill or text donors a mobile-friendly payment link.
Be sure to consider the urgency of your need. You don't want to overwhelm your donors. If your need is routine, we recommend considering whether this is the best fundraising avenue.
Consider a text-to-give campaign if your need involves:
An emergency
A time-sensitive project
A significant milestone
Let CauseLabs Help
We've found that people are willing to give generously to causes that matter to them during the pandemic. Consider your values and mission when developing new nonprofit fundraising ideas. People don't want to see an organization that is personally important to them fail. Consider how your use of technology creates authentic, sustainable relationships with donors. Hearts are still what moves dollars. Ready to level up your website's impact? Let's talk!
To discover your next steps for nonprofit fundraising ideas in the new year, you can complete this short survey from our partners at The Eight Principles.
Crowdfunding Statistics For Nonprofits. Nonprofits Source. (2021). Retrieved 27 December 2021, from https://nonprofitssource.com/online-giving-statistics/crowdfunding/#:~:text=14%25%20of%20donors%20worldwide%20have,to%20an%20individual%20crowdfunding%20campaign.
How a personalized email affects donor conversion. – NextAfter. NextAfter. (2021). Retrieved 27 December 2021, from https://www.nextafter.com/experiments/how-a-personalized-email-affects-donor-conversion/.
MATCHING MONEY MONDAY | Livingston County United Way. Lcunitedway.org. (2021). Retrieved 27 December 2021, from https://lcunitedway.org/matching-money-monday-is-dec-6/.
Mobile Giving Statistics for Nonprofits. Nonprofits Source. (2021). Retrieved 27 December 2021, from https://nonprofitssource.com/online-giving-statistics/mobile-giving/.
Vaughan, P. (2021). Why List Segmentation Matters in Email Marketing. Blog.hubspot.com. Retrieved 27 December 2021, from https://blog.hubspot.com/blog/tabid/6307/bid/32848/why-list-segmentation-matters-in-email-marketing.aspx.