You've heard it's not what you know, it's who you know. If your goal is to collaborate in an online community to make a positive impact, that may be truer than you think.
Impact technology is the proactive use of responsible technology to create or multiply positive impact. It can change the world for the better. An effective way to transform the world using impact technology is to foster online communities. When people with shared values, behaviors, and resources come together in an online impact community, the knowledge each person shares multiplies.
Benefits of Online Communities
The advantages of online communities are numerous, from empowering changemakers to facilitating innovation. Consider the points below when using impact technology to foster engaging communities.
Everyone is Equal
Online communities can create a safe space for people to connect, regardless of workplace hierarchy or socio-economic status. Nobody has a high-rise corner office or shiny red Corvette online. Everyone has the same size profile photo and the same number of character limitations in their bio. Of course, with custom-built impact technology solutions, you can choose to assign different user labels. Examples could include location, employee or constituent, or the number of contributions.
Empower Change
An essential aspect of building an online community is to consider your long-term goals. You can't just throw things at the wall and see if they stick. You need to understand your "why." Your nonprofit likely already has key use cases. Start there. From your online community infrastructure to human-level interactions, everything should happen with your end goals in mind.
Facilitate Innovation
Online communities can give power to those who previously had a small or nonexistent voice. Asking questions is key to fostering a community culture of sharing. The ideas that come from those without a seat at your board table may surprise you.
Streamline Operations
Communities of practice can help you streamline operations and cut down duplication. These communities are spaces created for those who share an industry, role, or responsibility. Often, they become a place to share best practices and lessons learned. This sharing allows others – nonprofit leaders included – to glean from your experience. Then, when it comes time to make "official" recommendations, these groups can be beneficial for streamlining operations.
Improve Lives
Ultimately, your goal with using social impact technology is to improve lives. When building an online community platform, those you serve need to be at the forefront. You want to meet them where they are. This awareness of their needs includes bridging unique gaps in your design when considering web features for nonprofits.
Building Community Social Capital
Impact technology itself isn't the only aspect you need to build a thriving online community. Focusing on people with a long-term vision, programming, and dedicated staff are essential to ensure your online community isn't just an empty technology shell.
Social capital is a set of norms, institutions, and organizations that promote trust and cooperation among people. Community social capital is a specific form of social capital that contributes to the common good. It's an eagerness to help that develops because you take the time to build and cultivate relationships. It creates a supply of generosity in your community.
To build social capital, you need to foster relationships in your community actively.
Ideas for increasing trust and fostering relationships in your community:
Introduce yourself and ask others to do the same
Ask questions about what members would like to see
Respond to ideas
Be transparent. Admit failures and what you learned from them.
Show that you are listening. By simply hitting "like" on a member's comment, a nonprofit leader affirms the member's contribution.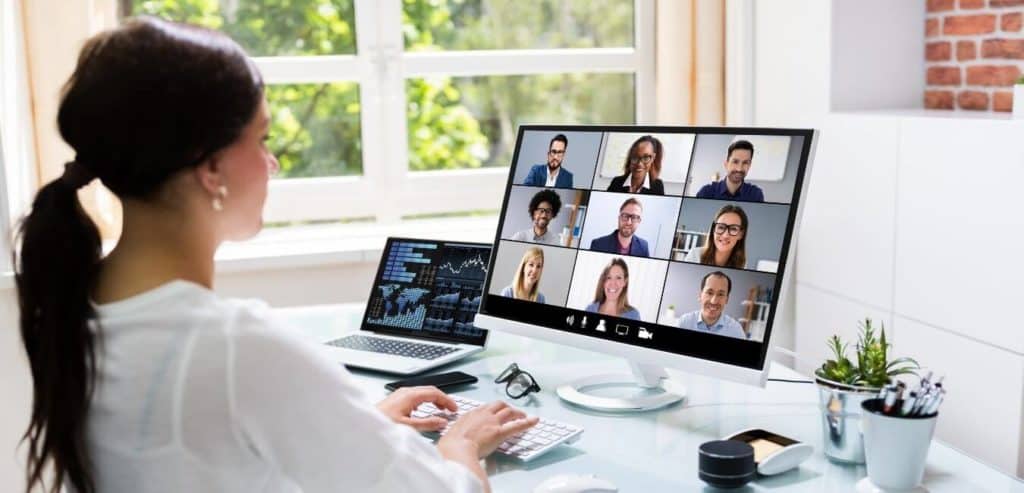 Technology's Impact on Community
It's a globally connected time, with 58 percent of the world's 7.77 billion people using the internet. It's not just when you sit down to browse the web on your desktop, either. More than five billion people are web subscribers. Nearly half of the world uses social networks. This increase in technology changed the world in powerful ways.
Social Media
The increase in social media changed more than the way people interact and process information. With information at people's fingertips, they expect information instantly. Social media also changed expectations, habits, and collective desire to share information more openly. Online communities built with a social media "feel" give members comfort and familiarity.
Video Chat, Software Development, and Augmented Reality
Gone are the days where you're required to go into the office for your nonprofit's daily all-hands meeting. The COVID-19 pandemic made hosting video chat mainstream in 2020, with a 535% increase in daily traffic. Video meetings improve productivity by 50%, changing the perception that being in the same room is better.
Enterprise platforms make it easier to collaborate with others within organizations, regardless of location. Slack has 12 million daily active users, while Microsoft Teams has 145 million daily active users. A hybrid workforce is the norm for many white-collar workers.
Augmented Reality also enables workers to visualize situations and solutions for their employees that normally would occur in person. From construction zones to hospitals, AR devices provide new ways to perform daily tasks.
Companies Using Technology to Build Community
Companies using technology to build community are everywhere. A huge example is the role Facebook plays in your life. Consider all the people you wouldn't stay connected with or keep track of without the relatively young social media platform.
Other companies using technology to build community include:
How CauseLabs Supports Impact Technology
At CauseLabs, we are ambassadors for using technology as a force for good. We leverage more than 15 years of expertise to scale your impact through strategy, design, and custom web development. By translating the needs of those you serve into an impact technology solution, CauseLabs can help you transform the globe. Whether your goal is to grow your nonprofit or equalize the world's inequities, we build online communities as a force for good. Contact us today to learn how we can help you use technology to build community.